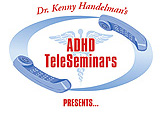 More Information Coming Soon...
Ask the ADD Coach
Free Teleseminar - Thursday February 8th, 2007 at 9:30 pm EST, 6:30 pm PST
Dr. Kenny Handelman will interview Bonnie Mincu about managing Adult ADD/ADHD
To submit a question and register for the call, visit:
Ask the ADD Coach
To learn more about managing your Adult ADD/ADHD yourself, visit:
ADD Coaching Self Workshop

About Dr. Kenny Handelman
Dr. Kenny Handelman is a Board Certified Psychiatrist in Canada and the United States. He practices predominantly Child and Adolescent Psychiatry in Brampton, Ontario. Dr. Handelman is an expert in ADD/ADHD, and teaches Pediatricians, Family Doctors, Residents and medical students, as well as many people all over the world, using the power of the internet.
To sign up for Dr. Handelman's ADHD Newsletter, visit: The ADHD Doctor
To read Dr. Handelman's ADD/ADHD Blog, visit: ADD ADHD Blog
To get great books on ADD or ADHD, visit:
The ADHD Bookstore
The Canadian ADHD Bookstore